KUMU: Ancestral Apothecary


Is a 2D Brazilian resource management apothecary simulation game, in which
your objective is to create medicines and distribute them to the villagers who come asking for them. Each person has a different need, so you will have to make different combinations to get the right medicine. You can open more stores in different villages depending on your reputation as a doctor.
Cure people, establish your reputation as a doctor and harvest ingredients to improve your apothecary. But be careful with the death of your patients, you might regret it.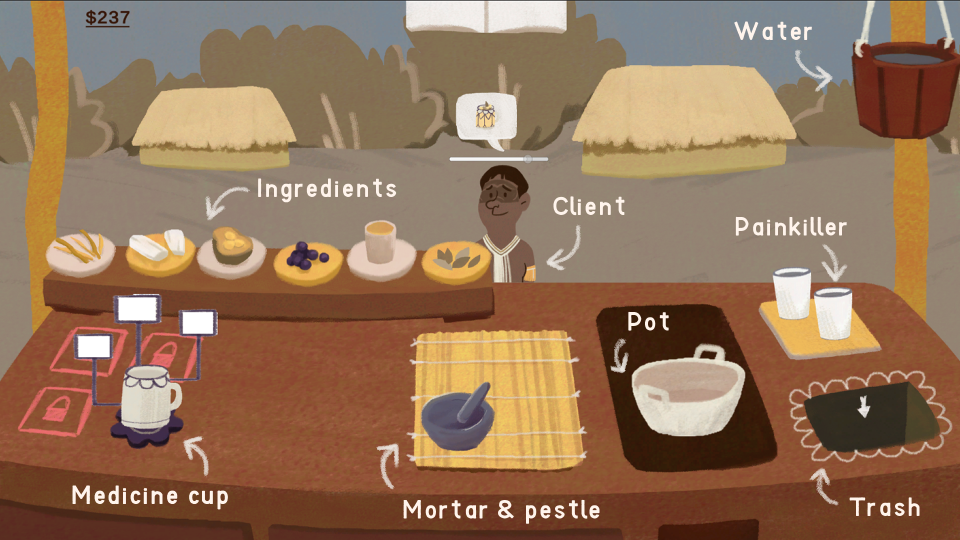 DISCLAIMER: If the game doesnt sounds good in your browser, try Chrome or firefox, or maybe your machine is slow, so try the windows build.

To your stand will come customers who will ask you for a specific job (this is shown at the top of the character) as well as the slider is their time of patience, if this time is over, they will leave the stand.
How to prepare food

To prepare the food you only need to click on it, and then click on the item where you are going to prepare it (pot or mortar and pestle).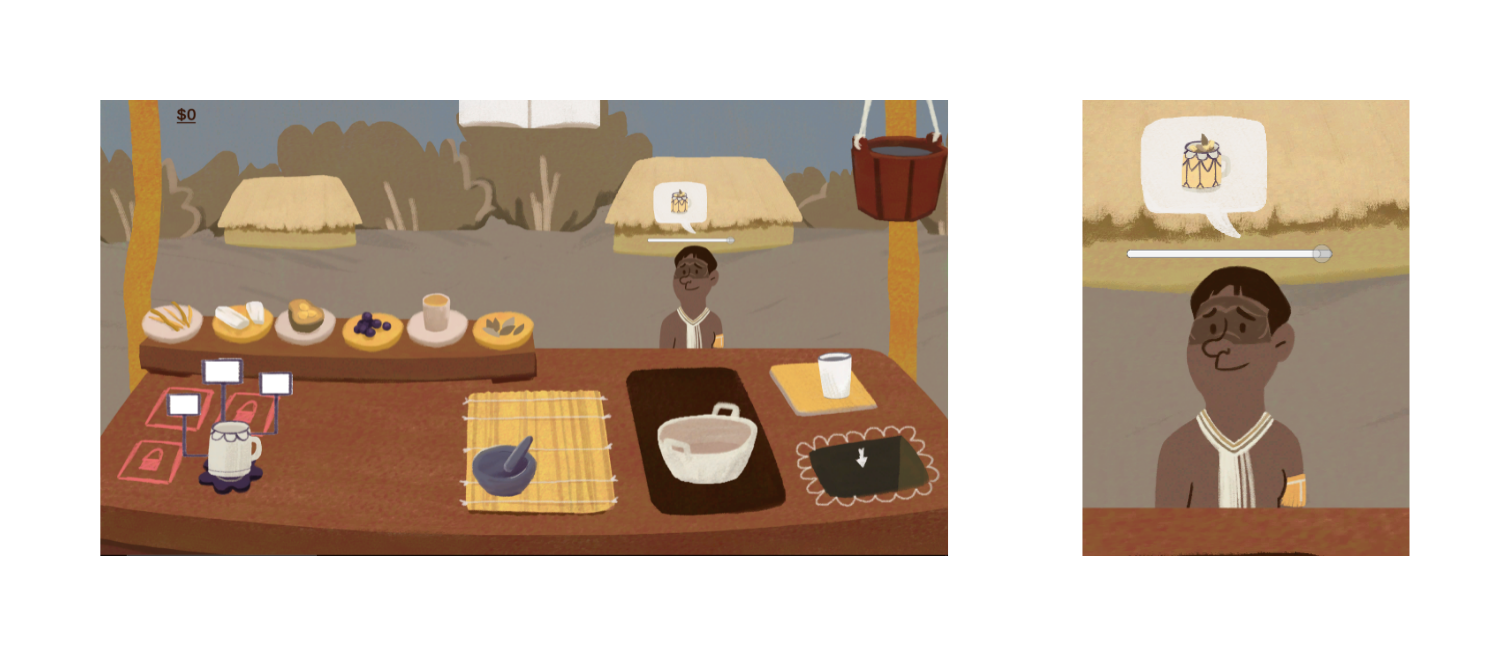 Burned food
If the cooking time is exceeded, the object will be burned, to clean the pot you only need to click on it and then click on the trash.

To serve the brew you only need to click on the prepared food, and then click on the jar, the added items will be displayed at the top.


To deliver the food to the customer it is only necessary to click on the jar and then click on customer.

If you have doubts about how to make the recipes just click on the recipe booklet and then you will be able to see the preparation of each one.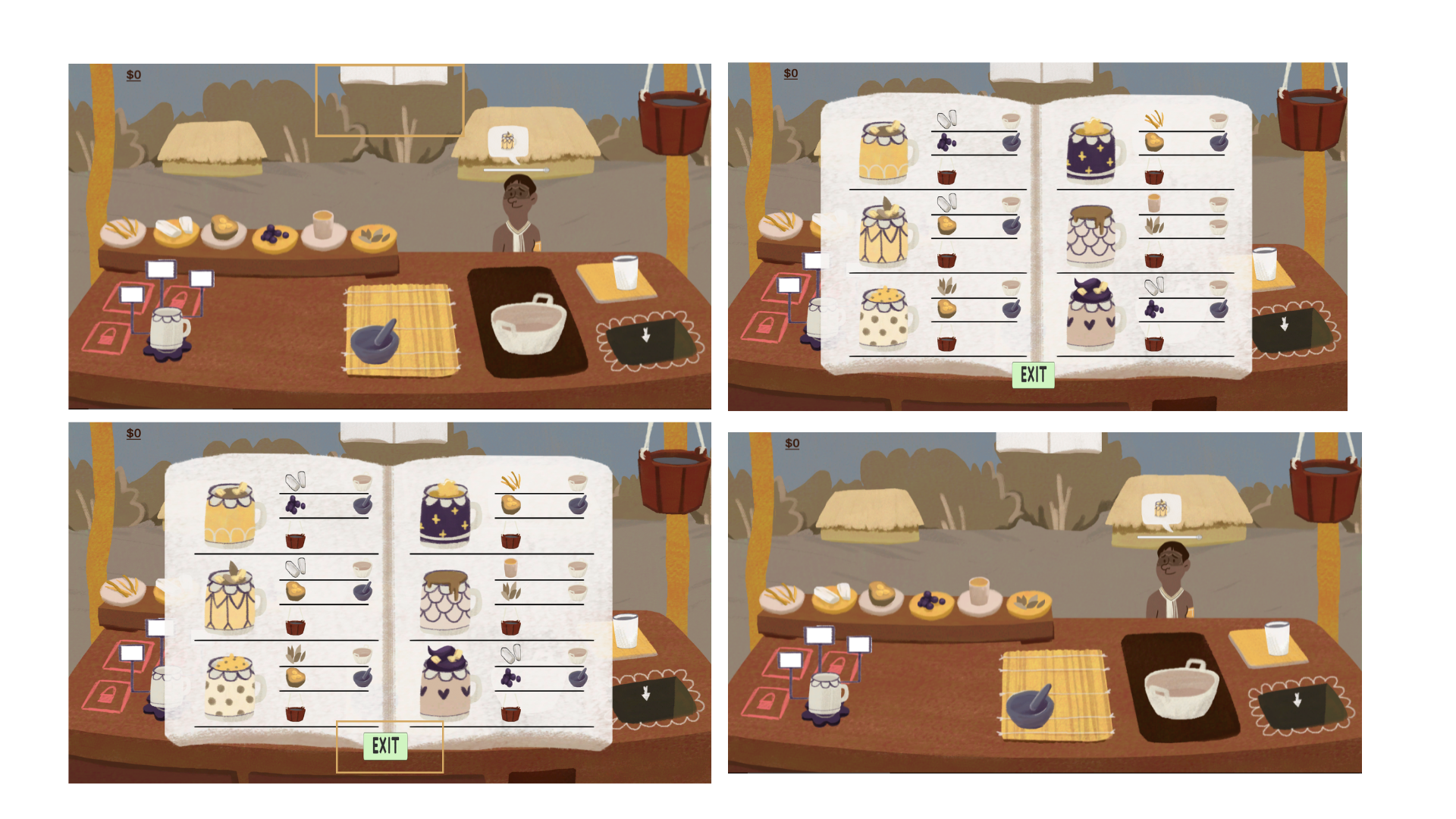 Made by




Juan Pablo Camacho Patiño
Jesus Orlando Carcamo Posada - Berserker1523


Mario Antonio Llaque Diaz
Maria Jose Castro Jaramillo


Carmen Stephanía Moreno Villamarín



Juan Pablo Correa Echavarría


Through our game we are teaching about ingredients found in the Brazilian myths and legends of: Buriti Palm Tree Myth, Açaí Legend, Samaúma Legend, Carnaúba Legend, Cassava Legend, Pequi Legend, The Rain Man. Also, with our setting the player learns the context of how the pre-Columbian Brazilian Amazonian tribes were and the importance of elements such as water and the coca plant to heal diseases.

The various recipes + waiting times = the best recipe to complicate the master of a simple click mechanic


Category- Educational